---
One-Pan Paprika Chicken with Potatoes and Tomatoes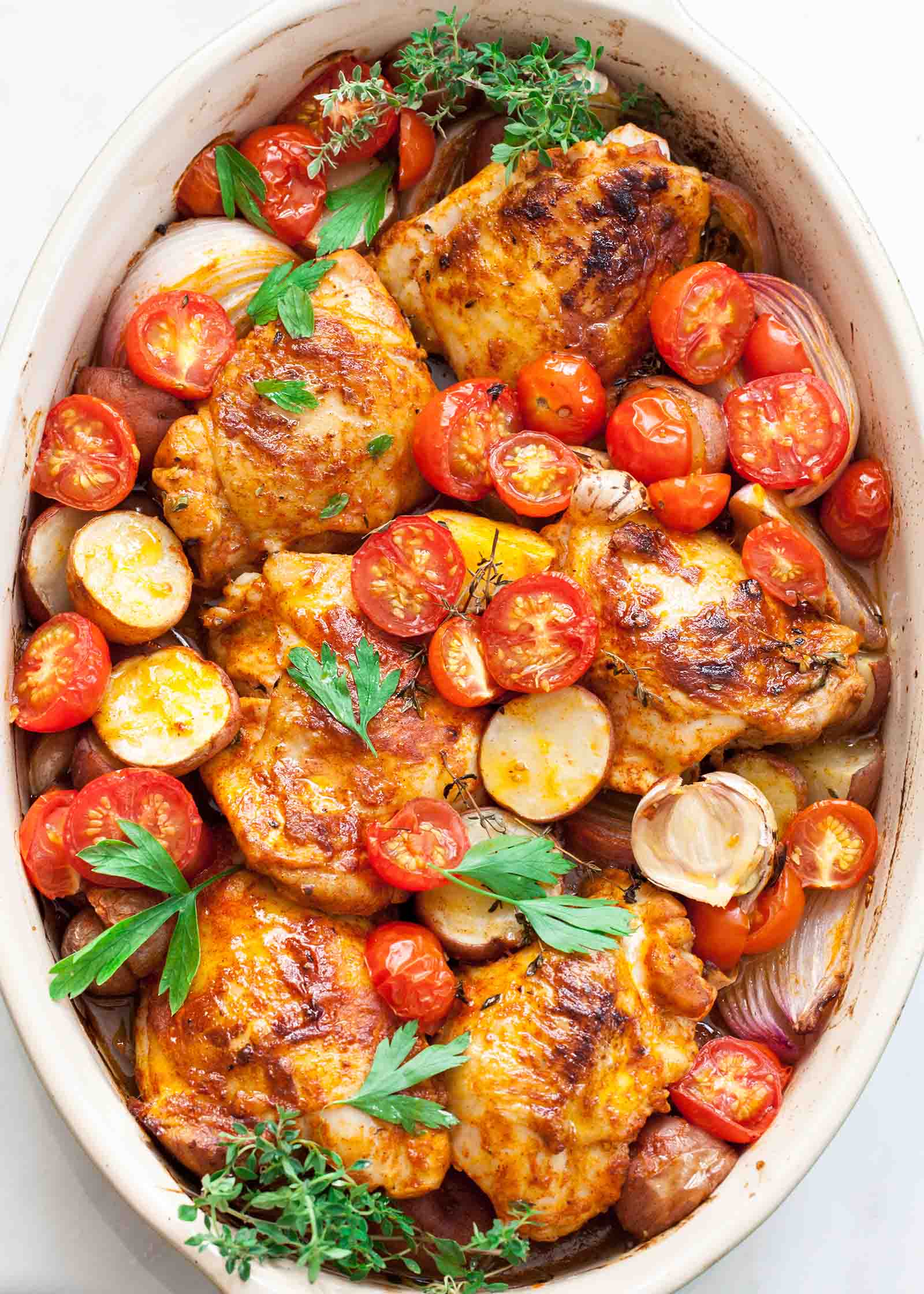 One-pan supper? Now you have my attention. I love a dish you can prepare, shove into the oven, and then forget about for a little while. Just remember to set a timer! This particular one-pan meal starts with tossing chicken and vegetables in an easy sauce while the oven heats, and ends with everyone sitting down to dinner an hour later. I like to give the chicken a quick marinade in the sauce – a mix of paprika, mustard, lemon juice, and olive oil – while chopping up the vegetables. It doesn't need to marinate for long, but I find it makes the chicken just that much more flavorful and tender. Chicken, vegetables, and sauce all go into the baking dish, and then the real action happens in the oven. All the flavors mingle while the chicken and vegetables roast. To keep the tomatoes from cooking down too much, add them about halfway through the baking time. This gives them enough time to warm through, but they still retain some of their fresh flavor and bright color.
Small red or yellow potatoes can be substituted for the baby potatoes; cut them into bite-sized pieces before baking.
1 Heat the oven to 400F: Place a rack in the middle position.
2 Prepare the chicken: With scissors or a sharp knife, trim the excess chicken skin and fat from the thighs. Sprinkle all over with salt and pepper.
3 Marinate the chicken in the sauce: In a large bowl, stir together the mustard, lemon juice, paprika, 2 tablespoons of the oil, and additional salt and pepper to taste. Add the chicken thighs and toss to coat. Set aside while you chop the vegetables.
4 Prepare the vegetables: Cut the baby potatoes into halves. Peel the red onion and cut it into 8 wedges through the root end. Smash the garlic cloves lightly with the flat of a knife, just to break the skin. Cut the cherry tomatoes in half, but keep them separate from the other vegetables.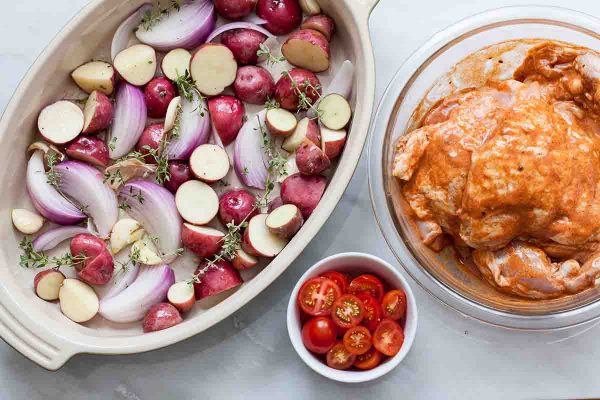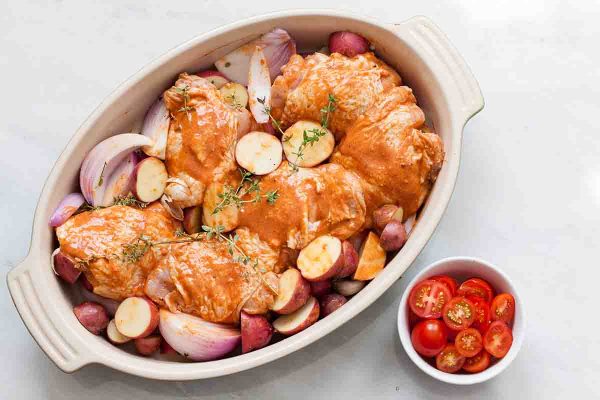 5 Bake the chicken and vegetables: In a large baking dish (9x13-inch pan, 3-quart dish, or other similar sized baking dish), toss the potatoes, onion, and garlic with salt, pepper, and the remaining 2 tablespoons of olive oil. Spread them evenly in the pan and top with thyme sprigs. Nestle the chicken into the vegetables and scrape any extra sauce over top. Bake at 400F for 30 minutes, uncovered.
6 Add the tomatoes: Remove the pan from the oven, scatter the cherry tomatoes on top, and return the pan to the oven.
7 Bake for another 20 to 25 minutes, or until the vegetables are tender and an instant-read thermometer inserted into the middle of a thigh registers 165F. Serve with a salad or crusty bread.