Mom's Cold-Season Chicken Soup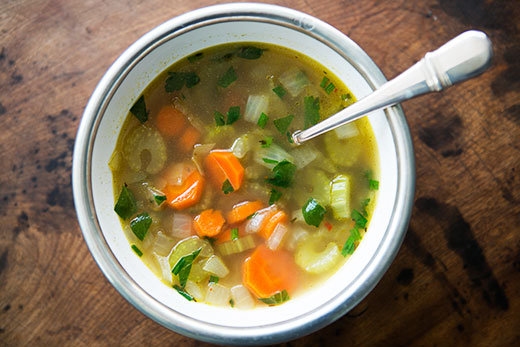 Mom and dad are both sick this week with a "rotten cold" that is keeping them feeling pretty miserable – coughing, sneezing, grumpy, etc. Mom made a delicious chicken soup today with just chicken broth and vegetables, no chicken meat. It was so good, I just had to get the instructions down before I forgot. The most important thing of course is the chicken stock. If it all possible use chicken stock you've made from bones or backs (see chicken stock recipe.)
Ingredients
4 cups of homemade chicken stock
Fat from the homemade chicken stock
1 yellow onion, peeled and chopped
2 carrots, sliced in 1/4-inch slices (about the same amount as onion)
2 celery stalks, sliced in 1/4-inch slices (about the same amount as the onion)
1 Tbsp fresh parsley leaves
1 Tbsp of chopped greens from a green onion (green part of the green onion) or chives
1/4 teaspoon poultry seasoning (ground sage and thyme)
1/8 teaspoon (a pinch) of crushed red pepper flakes (or a small pinch of cayenne)
Salt and freshly ground black pepper to taste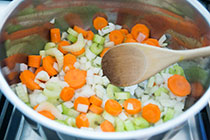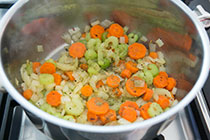 1 In a 4 qt saucepan, heat a tablespoon of chicken fat (that has risen to the surface and solidified from your homemade stock) on medium high heat. If you don't have enough chicken fat, you can add some olive oil. Sauté the vegetables in the fat until the carrots are almost done.
While you are sautéing the vegetables, add the seasoning - the poultry seasoning, the crushed red pepper flakes, a pinch of salt and a pinch of pepper. Seasoning like this during the cooking of the vegetables brings out their flavor. According to my mother, crushed red pepper flakes or cayenne is very helpful for a cold, which is why it is part of this recipe.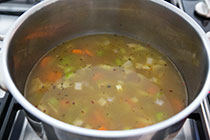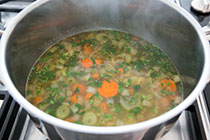 2 Add the 4 cups of stock. Bring to a low simmer. Cook until the carrots are just cooked through (about 5 to 10 minutes). Add the fresh parsley and green onion greens. Check seasonings (you will likely need to add more salt) and adjust to taste.
Serve with (at least) day old crusty French bread.