Honey Mustard Chicken Wings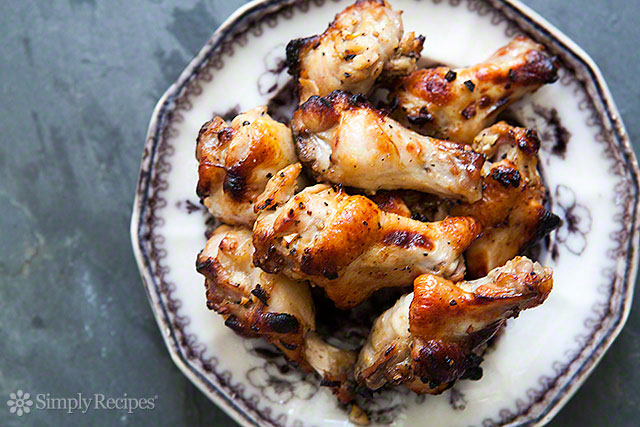 My father has had his thinking cap on. "It's football season. What your website readers need is something good to eat while drinking beer and watching the game." He's so right, isn't he? I love good finger food. Here's an easy recipe for chicken wing drummettes—the part of a chicken wing that looks like a mini drumstick. You marinate the wing drummettes in a mixture of honey, mustard, olive oil, soy sauce, and garlic, and then roast them in the oven until done. You don't have to use only drummettes, you can use wingettes or just pieces of chicken, cut the size of drummette. Note that cooking time will vary with different cuts. These were absolutely delicious; we can't wait for dad to make them again.
Ingredients
8 cloves garlic, peeled and crushed
2 Tbsp honey
2 Tbsp Dijon mustard
1 Tbsp tamari soy sauce (or 1 1/2 Tbsp regular soy sauce, use gluten-free soy sauce or tamari for gluten-free version)
2 Tbsp lemon juice
1/4 cup olive oil
2 teaspoons salt
1 teaspoon freshly ground pepper
20 chicken wing drummettes
1 Rinse and pat dry the chicken wing drummettes. Place them in a large bowl or marinade bag. Mix together the marinade ingredients—crushed garlic cloves, honey, mustard, soy sauce, lemon juice, olive oil, salt and pepper—and pour over the chicken wing drummettes to coat. Chill for at least an hour or up to 24 hours.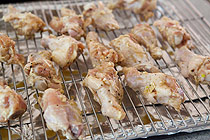 2 Preheat oven to 400°F. Line a roasting pan with foil and place a baking rack over it. Place the chicken wings in on the rack in a single layer with some space between the wings. Bake for 25-35 minutes, depending on the size of the chicken wing drummettes, until cooked through and well browned.