Easy Chinese Chicken Salad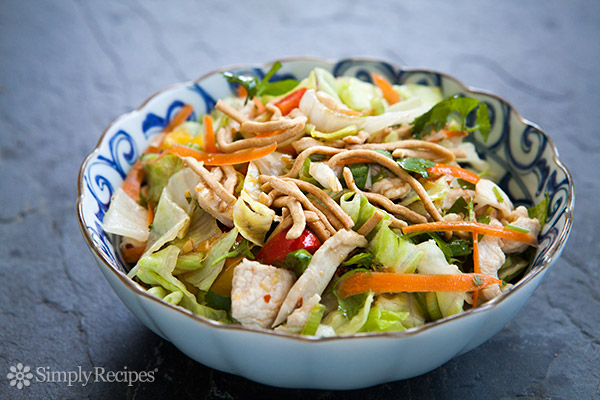 This Chinese chicken salad is a colorful and tasty way to use up some leftover chicken and makes for a light lunch. I experimented with few different dressings and ultimately settled on this one which I think is just the right balance of soy sauce, rice vinegar, ginger, garlic, and sesame oil. Do you have a favorite Chinese chicken salad dressing? Please let us know about it in the comments.
Ingredients
1 lb boneless, skinless chicken breast, sliced into strips
Salt
1 Tbsp dark sesame oil
1 Tbsp canola or peanut oil
1/2 teaspoon red pepper flakes
1 head of iceberg lettuce or Napa cabbage, thinly sliced
1/2 sweet bell pepper, thinly sliced
3-4 scallions, sliced
1 carrot, julienned
1/2 cup loosely packed cilantro leaves, chopped
1/2 cup roasted peanuts
Chow mein noodles, to taste (skip for gluten-free option)
Dressing:
1 Tbsp soy sauce (use gluten-free soy sauce for gluten-free option)
2 Tbsp rice vinegar
1 teaspoon mustard powder
1 teaspoon fresh grated ginger
1 clove garlic, minced
1/2 teaspoon chili pepper flakes
2 teaspoons sugar
1 Tbsp dark sesame oil
1/4 cup peanut or canola oil
1 Sauté the chicken: Heat both oils over high heat in a large sauté pan for 1 minute, then add the red pepper flakes and cook for 30 seconds.
Pat dry the chicken strips, sprinkle them with a little salt, and add them to the pan. Stir-fry the chicken over high heat until cooked through, 3-6 minutes depending on how hot your burner gets. Remove and set aside to cool.
2 Make dressing: In a small bowl, whisk together the dressing ingredients. Adjust seasonings to taste.
3 Toss salad to serve: In a large bowl, toss the chicken and salad ingredients together. Just before serving, toss with dressing and top with the chow mein noodles.