Colombian Chicken Soup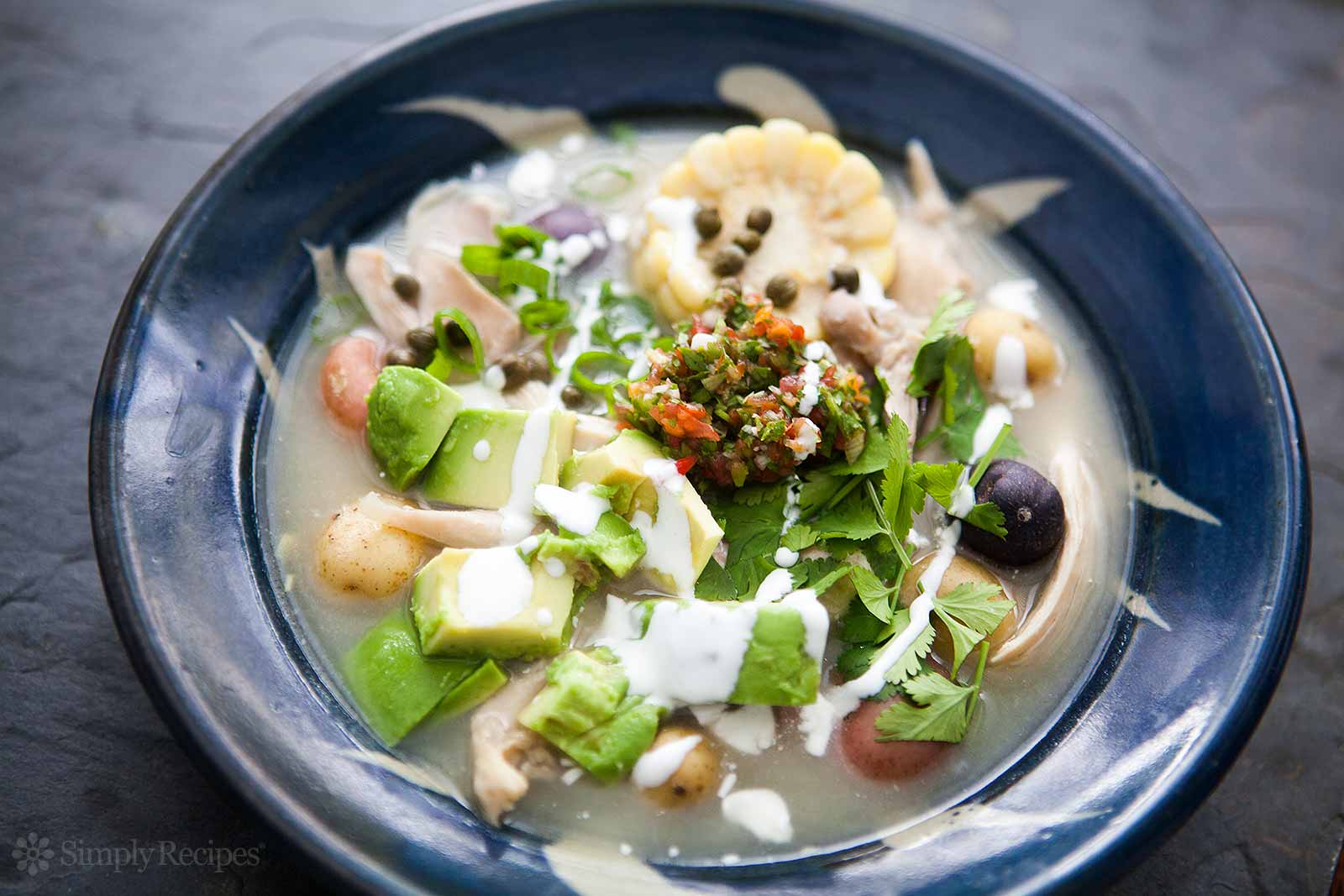 This is our version of a Colombian recipe (Ajiaco) that hinges on using several different kinds of potatoes, which are native to South America. The soup is served with a variety of garnishes, including a special salsa, "Aji", that for us, truly defines the dish. Ajiaco soup has all sorts of variations, but they all seem to rely on potatoes — some of which are cooked so long they dissolve, thickening the soup — corn (usually on the cob), and chicken. We decided to finely dice russet potatoes so they would dissolve quickly, and we pureed the soup base with an immersion blender, which saved hours of cooking time. If you don't have an immersion blender, you can either puree the soup base in a blender, or just cook it until the diced potatoes dissolve. It's important to use bone-on pieces of chicken here, as they are both cheaper and will make your soup broth more flavorful. Garnishes are up to you. They almost always include capers, avocados and cilantro, and will often include a salsa or a crema, which, depending on your perspective is either thin sour cream or a thick regular cream. We used tiny, multi-colored potatoes to finish the dish, but you can use any mix of potatoes — just make sure to not use all russets. Red skinned potatoes, purple potatoes, fingerlings and small Yukon Golds are all good choices.
The real version of this dish requires a special herb called guasca, which is a unique flavor. We added bay leaves to get somewhere close.
1 Put the chicken, diced russet potatoes, chopped onion and garlic in a large (at least 8 quart) stock pot and add 1 1/2 quarts of water and the quart of chicken stock. Bring to a boil over high heat and then reduce the heat to a vigorous simmer. Add the cumin, bay leaves and salt to taste. Simmer this until the meat wants to fall of the bones of the chicken — anywhere from 45 minutes to 1 hour, 15 minutes.
2 When the chicken is ready, remove it and the bay leaves from the soup and set in a large bowl. If you are going to puree the soup base with an immersion blender or by putting the soup into a regular blender in batches, do so now.
3 Pour the pureed soup base back into the pot and bring to a very gentle simmer. Add the second batch of potatoes and cook until tender, about 20-40 minutes, depending on size.
4 While the potatoes are cooking, shred the meat off the chicken bones and set aside. Make the salsa by pulsing all the ingredients in a food processor until they're finely minced. Transfer to a serving bowl.
5 Drop the pieces of corn on the cob into the simmering soup and cook for 5 minutes.
6 Serve the soup with the salsa, capers, sliced avocados, sour cream, and cilantro in separate bowls. Let people add garnishes to their own servings.